The Buzz: May 2023 Edition!
Welcome to this month's edition of The Buzz. Inside you'll find May's monthly challenge and exclusive badge opportunity, information about bbcon 2023, celebrating AANHPI month, upcoming events, and our conversation about ChatGPT. All that and more inside!
Hello Community,
Let's get started!
May's Monthly Challenge
We hope everyone had the opportunity to tune in to the Blackbaud Product Update Briefings last month and learn about the recent innovations and future roadmap direction in our leading-edge software solutions. Earn this month's limited-time badge by sharing what you learned or are most excited about in the discussions in the relevant product community – it could be for a product you own or one you just wanted to learn more about!
If you didn't get a chance to attend live or you'd like to rewatch one, great news! You can access the Product Update Briefings on-demand and participate in this challenge.

May Challenge Badge:
Save the Date for bbcon 2023
Mark your calendars: bbcon 2023 will take place October 22-24th in Denver, Colorado! Want to be the first to learn about registration and other important conference updates? Sign up on the bbcon website today!
Celebrating AANHPI Month
We are celebrating Asian American, Native Hawaiian, and Pacific Islander (AANHPI) Heritage Month in Blackbaud Community by featuring spotlights on several Blackbaud employees and their unique experiences of belonging and cultural representation in the workplace: read more about them here.
And if you are also celebrating AANHPI Month (or Asian Heritage Month in Canada), we'd love to hear your own stories in the comments!
Blackbaud Raiser's Edge NXT® Town Halls
We're excited to announce an inaugural series of Blackbaud Raiser's Edge NXT town hall meetings with Principal Product Managers Chris Anger and Anthony Gallo at the end of May. The one-hour sessions are intended to solicit feedback and better understand the capabilities your organization values and prioritizes for gift management to help inform future product development. Learn more about the sessions and how to register here.
Making Sense of the Buzz around ChatGPT
Artificial intelligence chatbots like ChatGPT have been the topic of conversations worldwide lately. Some are using it to generate content, others are using it to come up with recipes for the week or plan travel.
Learn what the analytics team at Blackbaud found after playing around with ChatGPT for the past few months in this article on the Engage blog. It also provides a good breakdown on just what ChatGPT is and how it works. You can also learn how ChatGPT and programs like it can be leveraged by nonprofit fundraisers in this article.
And then join the conversation about ChatGPT here in community - share how you are using it to help yourself and/or your organization or tell us about the use cases you are intrigued to try out!
Events
Check out these upcoming events that will help you maximize your impact:
Creating Financial Sustainability Through Trust-Based Philanthropy (Thursday, May 18th at 2pm ET)
Blackbaud Users Field of Dreams (Thursday, May 18th 1pm CDT)
Microsoft Power Platform Regional Workshop - IN PERSON (May 16th 9am-4pm ET in Chicago, IL)
Microsoft Power BI User Group (Wednesday, May 9th at noon ET)
What to Measure: Predictive vs. Indicative Data (Wednesday, May 10th at 2pm ET)
Jobs Board
Are you recruiting for a position or looking for a new opportunity? Use our free job board to post your open role or find out who's hiring.
Happy Birthday!
Happy birthday to all of our Taurus and Gemini's. We want to give you a proper birthday shout-out, so, if you are celebrating a birthday in May, let us know in the comments below!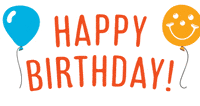 May is the best birthday month. I share it with my husband and my mom!
Happy birthday to the best birthday month folks!