Win With Season Of Gif-ting!
We are gif-ting away FIVE $50 Amazon gift cards this holiday season and here is how you can play.
It's time for the Season of Gif-ting in Community!
We are gif-ting away FIVE $50 Amazon gift cards this holiday season. Read on to learn how to join in the fun.
Why the Gif-ting? This year, you will be searching for words and their corresponding GIFs across Community.
For example if the word is "Fireplace" you will see the word "Fireplace" and this on the page: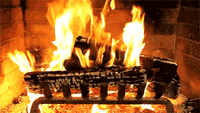 From now until the contest ends on December 23rd at 5pm est, we will be putting up a new word/gif on a page each weekday in the Community. All you have to do is find it, click on it, then fill out the form completely with your name and the winning word/gif and the bonus entry question!
You collect five different words each day (Monday-Friday) and we will select one winner randomly
who found all five of the week
to receive the $50 Amazon gift card.
We will announce the winner every Monday in the Buzz during the contest and notify them privately via direct message in Community. Even if you don't win the first draw, keep playing! The last week of the contest, we will randomly choose one WILDCARD winner from all the members who found all 15 words.
That's it! The words should be easy to find, you may just have to click around the Community and visit pages you haven't seen or explored much. It's a great opportunity to learn a bit more about our awesome site.
You can always ask us questions about the contest in the blog comments below and who knows, if you are super stuck on a day and can't find it, maybe a Community Manager will chime in with a clue.
Check out our
contest page
for complete contest rules.
Happy Hunting and Happy Holidays!
@Tami Goertzen and @Tina Pappas,
Oh no!! This was my error. I apologize. I am adding your names to the blog. Would you two be okay if I gave you both two submissions for this week into the raffle as a way to rectify my human mistake?
Elizabeth